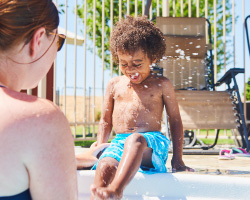 May 29, 2023—Splashing or swimming in a pool, a lake or the ocean is a fun way for kids and adults to cool off in the summer.
But whenever water is involved, drowning is a potential danger. It can happen in a minute or two and often is completely silent. It's also more common than you might think. According to the Centers for Disease Control and Prevention (CDC), every day 11 people die from drownings unrelated to boating accidents. Most are children younger than 5 years old or people 15 to 24 years old.
Here are six tips for keeping your kids safe.
Keep a watchful eye. Never leave kids of any age alone while they're around water, whether outdoors, in your backyard or even in the bathtub. Stay close and alert. Avoid distractions, like reading, using the phone, or consuming alcohol or drugs.
Assign a water watcher. If you're in a group, rotate who will keep an eye on the kids. Even if the area has lifeguards, don't rely solely on them.
Take swimming lessons—they save lives. Did you know that kids as young as 1 year old can learn to swim? Teach your children early about water safety and how to swim. If you don't know how to swim, take adult lessons. You may need to jump into the water to help your child someday.
Use life jackets. Make sure your kids wear well-fitting, U.S. Coast Guard-approved life jackets when they are near or in lakes, streams or the ocean. Kids who can't swim or don't swim well should also wear them at the pool. Pool noodles, air-inflated life jackets and other floating devices are not reliable substitutes. Always use life jackets on boats, canoes, kayaks or other watercraft.
Check the water first if someone's missing. This is especially important if your child is prone to wandering. Know where the pools are in your neighborhood, even if they are behind fencing.
Know what to do in a water emergency. Learn CPR and basic water rescue skills so you can help during an emergency.
Want to learn how to make other summer activities trouble-free? Check out our Summer Safety health topic center.
Sources