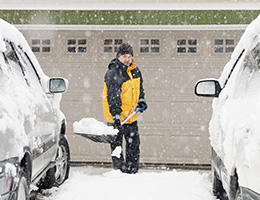 Many people suffer back and shoulder pain from snow shoveling, according to the American Academy of Orthopaedic Surgeons (AAOS). To help prevent injuries, the AAOS offers these guidelines:
Shovel snow soon after it falls, when it's lighter. It's harder to shovel older snow that is packed down or partly melted.
Exercise a little to warm up your muscles before you begin shoveling.
Keep the shovel close to your body and space your hands far apart for better leverage.
Push the snow instead of lifting it when you can. When you must lift snow, use proper lifting techniques. Bend at your knees—not at your waist—and keep your back straight while lifting with your legs.
Shovel a little bit of snow at a time and rest as often as necessary.
Don't shovel snow over your shoulder or to the side. This can twist and stress your back.
Avoid falls by wearing shoes with slip-resistant bottoms and watching for patches of ice.
Use a shovel that feels comfortable to you. Make sure it is not too long or too heavy.
As with any strenuous activity, you should take frequent breaks and drink liquids to replace the fluids you lose. You should also talk to your doctor if you have medical problems or haven't been exercising regularly. You may need to hire someone else to shovel your snow.
Reviewed 3/5/2023