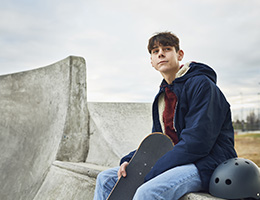 Some things teens don't necessarily need but often want: video games, smartphones, cars.
Something teens need but may not say they want? Visits with a doctor they can call their own.
That doesn't mean your child needs to find a new doctor as soon as he or she turns 13. (The American College of Obstetricians and Gynecologists recommends teen girls start seeing a gynecologist between the ages of 13 and 15.)
But the teen years are a good time for kids to take a bit more of the reins when it comes to their health—and for their parents to let them.
Health matters to teens
Healthcare may not be on most teens' radar, but other aspects of health are probably a major part of their lives.
For example, both boys and girls may worry more about how they look when they're in their teens than they did when they were younger. Being healthy has a big influence on how kids feel in their bodies. Kids who feel good also are more likely to do well in school and sports.
Health issues at this age
There are a number of things teens might want to talk about with their doctor.
For many teens, sexual questions might top the list. And the teen years are a good time for kids to learn about how to avoid pregnancy and sexually transmitted diseases.
Safety issues will probably be one of the first things a doctor will want to discuss. Traffic accidents are a top cause of death for this age group, according to the Centers for Disease Control and Prevention. Other dangers facing teens include accidental injury, suicide and homicide.
The teen years also are a good time to create healthy habits. The habits made in our youth often follow us into adulthood, according to the American Academy of Family Physicians. These habits can influence our risk for developing heart, lung or other health problems.
Building a relationship with a doctor now can serve your teen well into his or her later life.
How parents can help
One way you can help is to ask your child what type of doctor he or she prefers. A teen who has formed a good relationship with a pediatrician might not want a new doctor. Or your child might express a preference for a doctor of his or her same sex, or just to try someone new.
Parents also can encourage their teen to talk to their doctor in private—and let them know it will remain private.
Some advice for teens
You will want to see your doctor when you're sick. And you should make an appointment to talk with your doctor if you have any health questions or concerns.
But it's also a good idea to prevent problems before they start, and that's why regular checkups with your doctor are so important.
Keep in mind that the information you tell your doctor in the privacy of the office will stay in the office. The only exception may be if you are in danger of being hurt, according to the American Academy of Pediatrics. So you can be very honest with your doctor.
Also:
Let your doctor know about any medications you take, including any herbal or over-the-counter products.
Write down everything you want to discuss before your visit, and then check each item off when you're finished.
Feel free to bring up any subject that concerns you, including problems at school or at home.
If you have a concern, ask about it. Like your teachers say, there's no such thing as a dumb question.
Reviewed 11/28/2023