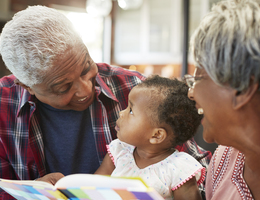 Aug. 21, 2023—Respiratory syncytial virus (RSV) can make some infants and some older adults very sick. Now, the Centers for Disease Control and Prevention (CDC) recommends two new immunizations—a vaccine for older adults and a monoclonal antibody injection for babies—to protect those most at risk. Here's what you need to know.
What's RSV?
This highly contagious virus causes upper and lower respiratory tract infections. For most people, symptoms are mild. They can include:
Runny nose.
Decrease in appetite.
Coughing.
Sneezing.
Fever.
Wheezing.
RSV season is typically fall through spring, and people usually get over the bug in a week or two. But RSV can cause serious lower respiratory illness in infants and in older adults with certain risk factors.
Parents: A new shot to protect babies
Each year, RSV sends an estimated 58,000 to 80,000 young children to the hospital, reports CDC. Most of these patients are infants. And every year an estimated 100 to 300 children younger than 5 years of age die due to RSV.
In July 2023, the U.S. Food and Drug Administration (FDA) approved a new immunization to help keep kids safe from RSV. Research has shown that it reduces the risk of RSV-related hospitalization and healthcare visits by about 80%.
The RSV shot for babies is an immunization, but it isn't a vaccine. Vaccines train the body to defend itself. Instead, monoclonal antibodies, like nirsevimab, provide a temporary shield against a specific virus. The new RSV shot protects babies for about five months.
The shot may have side effects, such as a rash or reaction at the injection site. Parents should ask their child's healthcare provider if the shot is right for their child.
Who can get this immunization: CDC recommends that all infants younger than 8 months old get one dose of nirsevimab to protect them during their first RSV season. Children between the ages of 8 and 19 months who have a higher risk of severe RSV disease should also get a second immunization to protect them during their second RSV season.
Older adults should ask about their risk
Adults 65 years of age and older also have an increased chance of getting very sick or experiencing complications from RSV.
While most older adults experience mild symptoms, for some the virus can lead to pneumonia or bronchiolitis. It can also make chronic heart or lung conditions worse. Each year in the U.S., 60,000 to 120,000 older adults are hospitalized because of these complications, and as many as 10,000 die, according to CDC.
The risk is higher for older adults with certain health problems, including:
Heart disease.
Lung disease.
Weakened immune systems.
Living in communities like nursing homes or long-term care facilities can play a role too.
A new vaccine for people 60 and older can help protect older adults from getting very sick because of RSV. The single-dose shot is effective: According to FDA, the RSV vaccine for older adults reduced the risk of a severe lower respiratory infection by 94%. The most common side effects include pain at the injection site, fatigue, headache, and muscle or joint pain.
Who can get this vaccine: The RSV vaccine is available for adults age 60 and older, based on discussion with their doctor. If you're at high risk for getting very sick with RSV, ask your doctor about getting an RSV vaccine. They'll help you understand the risks and benefits so you can make the choice that's right for you.
Learn more about RSV
Test your RSV know-how and learn how to keep your family safe with our RSV quiz.
Sources